Immediate or Surgical Dentures
Dentures that are made prior to and are inserted immediately after patient extractions, usually by the Dentist or Oral Surgeon. There are 2 major benefits of this treatment option:
The teeth act as a Band-Aid on the extraction site, controlling bleeding, swelling, food entrance and general healing.
Your appearance; you do not have to go without teeth during the healing stage.
APPOINTMENTS
1-3 appointments within 2-3 weeks prior to your extraction date.  Impressions are taken, teeth shades and shapes are chosen or matched to your natural teeth, and the denture is crafted.  Once completed, the denture is usually delivered directly to your dentist or oral surgeon.
Transitioning from natural teeth to dentures is very individualized and can range from easy to challenging. So too is the healing process as no two people have the same experience and no one can predict how your body will respond or how long it will take to heal.
Factors that affect the fit of the denture immediately after extractions:
The amount of bone removed and resulting shape of the jaw
The amount of swelling and bleeding
The ability to heal quickly and adapt to change
Knowing these common experiences can prevent GREAT misunderstandings that will affect not only your transition and acceptance of dentures, but also your acceptance of your Denture Specialists aftercare and trust in the new dentures.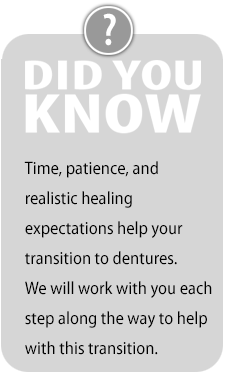 What to expect as you transition from natural teeth to dentures